Team Profile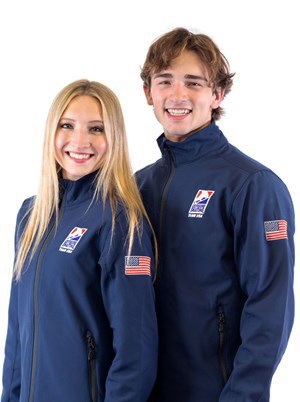 | | EVA PATE | LOGAN BYE |
| --- | --- | --- |
| Birthdate | May 11, 2000 | March 2, 1998 |
| Birthplace | Cleveland, OH | Colorado Springs, CO |
| Hometown | Strongsville, OH | Colorado Springs, CO |
| Hobbies | Spending time with family and Logan, Boating, Cleveland Browns football | Being with friends and family, video games, spending time with Eva, puzzles |
| Started Skating | 2006 | 2001 |
| Club | Strongsville Skating Club | Skating Club of New York |
About Eva
At 5 years old, Eva started skating while attending her Daisy Girl Scout troop event at the ice rink. Eva could barely stand on her skates and demanded that she take lessons. She was determined to learn how to skate. She started in Learn-To-Skate lessons at OBM Arena in Strongsville and then switched to private lessons at 7.
On top of her freestyle lessons, Eva started ice dancing at 11 years old under coach Janet Wene, who encouraged her to compete in the National Solo Dance Series. Throughout 2012-2017, Eva qualified every year for Solo Dance Championships. She medaled 7 times, with one of them a win! Eva at this point had fallen in love with ice dance and decided that she wanted to look for a partner. While watching the 2014 Winter Olympics in Sochi, Eva told her mom that she too wanted to pursue being a Team USA Senior Ice Dancer.
In November of 2015, she was testing in her home rink and a judge pulled her aside and asked if she could refer Eva to coach Marina Zoueva. Marina contacted Eva and Eva started training in Canton, Michigan. For the next 3 years, Eva traveled between Cleveland, Ohio and Canton, Michigan to train with Marina and all of the coaches. In June of 2018, Eva moved full time to train in Canton, Michigan. In January of 2019, Eva changed head coaches and moved to Igor Shpilband's training facility in Novi, Michigan. Eva and Logan decided to team up in June of 2019 under Shpilband.
About Logan
Logan started skating at 4 years old to help him have better edges in his skiing skills. His first lessons were in the Learn-To-Skate program at Sertich Arena in Colorado Springs. At 7 years old, Logan began training in the World Arena with Tom Zakrajsek. Logan competed nationally in freestyle until the Intermediate level when he began to skate in ice dance and in pairs. Having competed 6 years in freestyle, 4 years in ice dance, and 1 year in Pairs, Logan moved to Portland, Oregon to continue his ice dancing career where he partnered with Chloe Lewis, coached by Ikaika Young and Judy Blumberg. The team won the novice title at the 2013 U.S. Championships.
After two years, Chloe and Logan moved to Novi, Michigan to train under their new coach Igor Shpilband. The team qualified for Team USA and was assigned 2 Junior Grand Prix competitions. In the next following seasons they continued competing on the JGP circuit, and was assigned to represent the USA at the 2016 Youth Olympics in Hamar, Norway where they won the silver medal.
In late 2017, Chloe and Logan decided to move to Marina Zoueva's training center in Canton, Michigan. After competing at the 2018 Junior Worlds where they placed 7th, Chloe decided to pursue college studies in California, retiring from competitive skating. Logan stayed in Michigan continuing attending the University of Michigan where he was studying Cellular & Molecular Biology.
After taking a year off of the competitive scene, Logan teamed up with Eva and moved back to Novi's training camp with Igor Shpilband and his coaching team in June 2019.
Off The Ice